Seems like everyone has the ability these days to set up eCommerce stores and that means an incredible amount of competition. With Shopify and Facebook seemingly making things even easier to get in the game with their new announcement, it means higher CPM, more competition around products and banner blindness.
Having your store rank well for generic terms for products or the industry you work such as 'handbags', 'Skincare', 'shoes' etc. means you're in a position to capture people looking for your products. Actively looking which means much higher purchase intent. These are my top five things that help eCommerce stores achieve better rankings in search engines.
1 XML sitemaps
It seems arbitrary and simplistic, but many eCommerce sites I've worked with before had not created an XML sitemap. Depending on how many products, brands, or pages you already have and if you're always changing products and brands at a high rate, this may be a bit of a b*tch to get right.
The idea behind this is obviously to give Google and other search engines direct access to all of your pages at any given point. You want this because they have the potential to turn your business into a 9 figure powerhouse or send you back to your mum with your tail between your legs. The more search engines can access your pages, but more specifically all your big important pages, the better those pages are going to perform, if you get Google to trust your website.
I recommend having an autogenerating XML sitemap, which add any pages created by your content team into this sitemap. You can various rules around how you segment them, but you want to keep your 'hub' pages, 'category' pages, or 'money' pages in a separate XML file. These are your pages that are most like found in your main navigation and would be very generic in nature. You can always verify the code using online tools like w3schools.
Examples of Hub/Category/Money pages:
'Skincare' for beauty eCommerce stores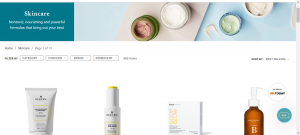 'Running shoes' for sports stores: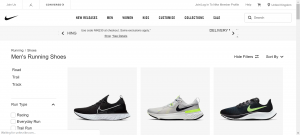 These are of course dependant on the size of the store and how many categories you might need.
The idea here is that these pages would target keywords with high volume and high competition and therefore those pages should be easily accessible to Google. If there are no sitemaps search engines have to work a little harder to understand whats going on with the site architecture and what your priorities are.
Once you have an XML sitemap you ensure you add the full URL address into your robots.txt. The reason is that search engines and actually spiders and bots of most kinds have to check the robots.txt file to see if they are allowed to crawl your website and also which areas they are allowed to access. Once you've told them where they are allowed to go and not allowed, you can help them reach your important pages quicker by ensuring the sitemap is in the file. Have a look at Cult Beauty Robots.txt file with the sitemap right at the bottom of the file.
2 Canonical tags
Canonical tags are super important for eCommerce site because they help you avoid duplicate content penalties and help ensure search engines have the correct page to serve users. You're out promoting your products and brand in every way shape or form in this often endless digital landscape. If you're smart, you're tracking everything, you're gathering data about each step and each interaction, looking and analysing what tweaks you can make to get the user further along the sales process. Often tracking parameters unintentionally cause duplication of your page. You might not see it this way, but Google and other search engines might.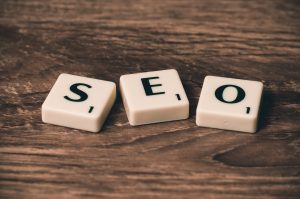 Making thousands of duplicate pages that are basically the same page was an old SEO tactic that resulted in big penalties. Creating duplicate pages with little or no purpose but to manipulate search engines will eventually result in your website being penalized. The Google Panda algorithm update which is something that is run regularly now and is part of the core algorithm.
3 404 pages
I wasn't entirely sure how to name this one. Technically its redirect strategy, but you're targeting old pages you've removed from your inventory. You may stop producing or selling a product that has dwindled out of favor with your target audience. That's okay, you've got a new one to promote or create, etc. The thing is that you've probably promoted the other product for a while, especially if it was bringing in great revenue and or was getting a lot of public attention. That page has historical value. Most companies just cut it out of the main areas of a website and move on, but even if you did manage to completely delete the page and all internal links, you'll still have links from other pages where the 404 pages could be found.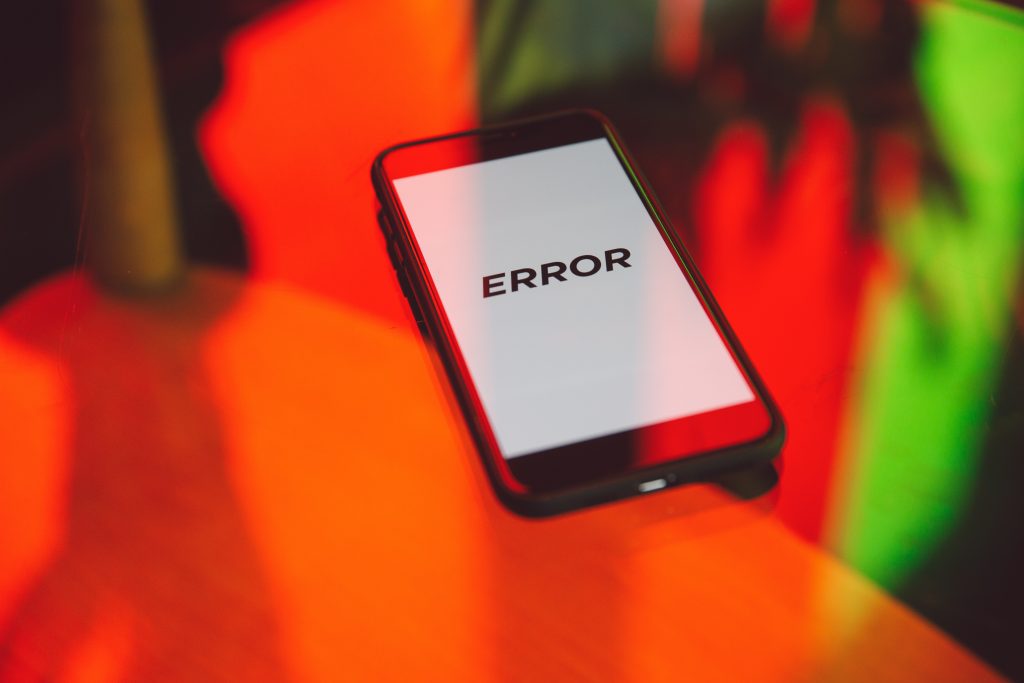 This is where I like to find all the 404 pages with lots of backlinks and redirect them to a more useful page related to the purpose of the previous (now 404) page. You can use Majestic SEO or Moz or whichever platform you use to tracking links for this. You can simply export all your 404 pages from Google search console and then either search for them manually or use the API's to find all the ones with good backlinks.
Now I'm not saying you redirect these pages to just any page. Google doesn't like that, but for example, let's say you have a product page, it was popular. You no longer stock that product, but you still work with the brand on other products, you can redirect that page to the brand hub page. Failing that, maybe even the home page. I wouldn't use Brand X old products to redirect to Brand Z. That would give the user a really bad experience and also not benefit you at all because they would bounce.
Having a process for deleting old pages can help your website make huge gains in organic traffic and revenue.
4 Internal links + anchor text
Internal links do the same as backlinks, they show relevance by using anchor text and also priority or importance of the page. Like backlinks the pages that link to your target pages matters and also the anchor text. You can have as many internal links to your target page as you deem necessary. The links must of course be natural according to the content.
One can use syntax in Google to discover which pages on your website are the most closely related to the keywords for your target page:
Example: I want to find all the pages on my website that Google thinks are relevant to the term 'skincare'
Site:www.YOURDOMAINHERE.com + skincare
Would bring up all pages Google thinks are relevant on your domain to your search query 'skincare'.
I'd check out all the pages that show up for a natural-looking place to create a link to my target page which should the hub or main page for 'skincare'.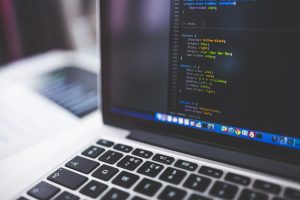 You can do this for any keyword for the target page, not just the primary page. If you're already ranking number one for skincare, have your content team start linking to the 'skincare' page with your secondary keyword priority. So you could use this tactic to increase your relevance for any keywords you're targeting. In fact, variation is good to practise as too many exact anchors could cause an overoptimization penalty, but I've never received one and I've done this a lot and on big scales for big companies. I thought it might be rude not to warn you.
5 On-page keyword density
So I lied, this isn't one tactic. It ranges from page titles, alt text, headings, and especially text. You eCommerce folks hate text, but you just don't get that Google loves it. Obviously ASOS is a beast of a company, but I think what really started pushing them above their competitors in this space was their ability to break the norms of being visual only for Fashion. They were the first big store to have text on their landing pages and I think that's why they smashed their competition so quickly.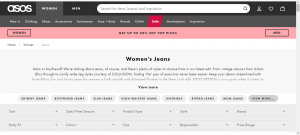 Ugly, maybe, but they dominate the SERP's for most of their products. Deal with converting them after you've got the traffic okay. My gift to you. First get traffic, finding out what to do next is easy.
Alt text for all your images is a good way to increase your on-page relevancy for your target group of keywords and of course including your keywords in headings.
Bonus Tip: Hire Digital Score for your seo agency, we're really… really good and we love helping good companies do well 😛